In our last post, we already talked about the strong connection between people in Friedrichshafen and the name Maybach. This is also present in many places in the urban fabric of the city. Today we will for the first time take you with us on a tour of discovery through Friedrichshafen : At the beginning of our series, we would like to show you the busts of Wilhelm and Karl Maybach, which can be found in a very special place in Friedrichshafen. Coming from the railway station "Friedrichshafen Stadt", passing the Graf Zeppelin and Karl Maybach High School, two statues are placed on the Maybach Square in honor of Wilhelm and Karl Maybach.The place the statues are presented today is deeply intertwined with the history of Maybach Motorenbau. It's close to the entrance to the site where Karl Maybach's company was situated from 1912 onwards. Today it still is in close proximity to the entrance of Rolls Royce Power Systems/MTU Friedrichshafen which is the company that Maybach Motorenbau had become after 1969. Friedrichshafen's city center around the townhouse is just a ten-minute walk away, the town and its companies grew side by side. Further south towards Friedrichshafen lies the Karl Maybach High School which was given its name in honor of one of Friedrichhafen's most important citizens. Friedrichshafen was and still is an engine city and Karl Maybach had made it another cradle of products that were to have a disruptive impact globally. The Karl Maybach High School is the only school named after Karl Maybach though there are two more named after Wilhelm Maybach, one in Heilbronn and one in Stuttgart.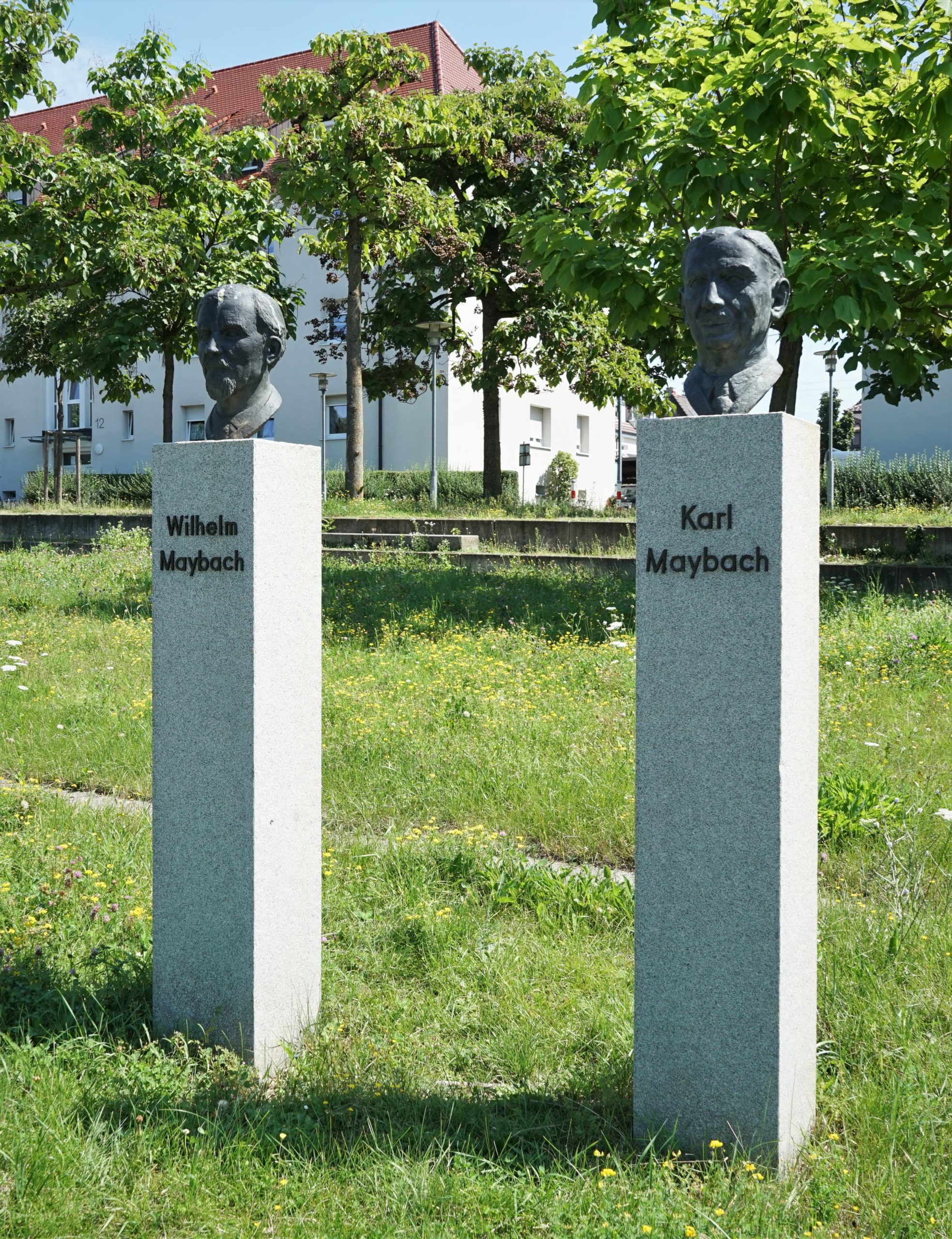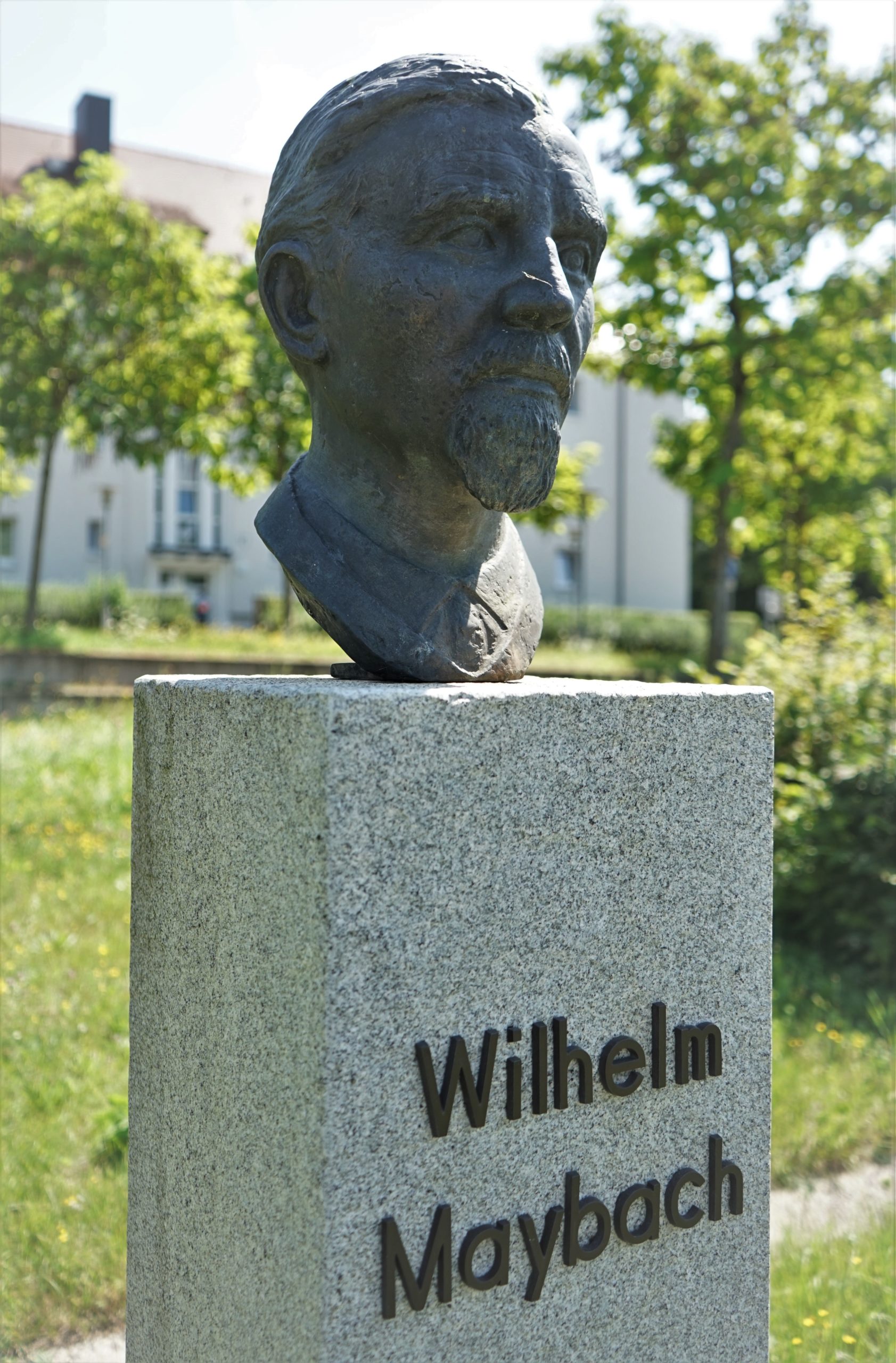 The monument consists of two stone steles on which bronze portrait heads of Wilhelm and Karl Maybach are presented. These had been sculpted by Eduard Raach-Döttinger in the mid nineteen eighties. Eduard Raach-Döttinger who had been creating many public monuments and fountains had lived from 1909 to 1991. From the 1950s onwards he had been working in Eningen which is situated close to Reutlingen. His favored materials were stone and wood though he also created works made from bronze regularly. In 1986, the artist was commissioned to make a bust of Wilhelm Maybach on the occasion of an exhibition in Reutlingen entitled 'Reutlingen Encounter'. The show told the story of the historic encounter of Wilhelm Maybach and the environment it had taken place in. Wilhelm Maybach met Gottlieb Daimler at the Bruderhaus orphanage – it turned out to be an encounter and a combination of forces that was to make history, Maybach's constructive ingenuity of and Daimler´s entrepreneurial spirit.
Having completed the Wilhelm Maybach sculpture a year before, Raach in 1987 was also commissioned by 
MTU
 Friedrichshafen to make a piece depicting Karl Maybach. In an interview from the first public presentation of the Karl Maybach bust, he described the specific process which led to his creation. As a starting point, Raach had been using images from different stages of Karl Maybach's biography as well as quotes. With this approach he aimed to add an impression to his work which unified the different life phases in one image, thereby adding another level to the realistic depiction.
Showing Wilhelm Maybach alongside his son, the monument makes clear that this genealogy of engine construction reaches further back in history and beyond Friedrichshafen : Heilbronn, Reutlingen, and Canstatt are among the other places that tell the story. We want to start out in Friedrichshafen with a new series as there are many other places to discover the Maybach history inside and beyond the city limits. Stay tuned for the upcoming blog posts of this series.